Every day we make several batches of cheese, from milk that is straight from our beautiful herd of Saanen dairy goats. We are passionate about producing a healthy source of nutrition and protein for our community, which nourishes our bodies and promotes our wellness. There are many benefits to eating cheese that is local, fresh, preservative-free, dye-free, low/no salt, and made from animals that are hormone and anti-biotic free. Our customers praise not only our delicious and unique flavor, but also their increased ability to digest cheese, even when formerly allergic.
Our cheese is:
Fresh | Local | No Preservatives | No Additives or Dyes
Either no salt (chevre) or low salt (herbed varieties, feta-, tuma- and cheddar-style)
Made from goats not treated with hormones or anti-biotics
Goats grazed on organically managed land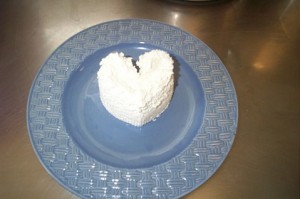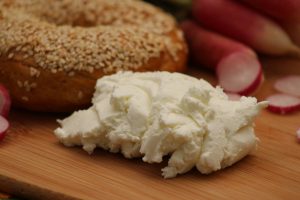 Chevre
A soft spreadable traditional French chèvre so clean in taste that it is beloved fresh out of the container without any adornments. It's perfect for baking into pies, and sweet or savory cheesecakes. Stuffing recipes include it for peppers, tomatoes, mushrooms, squash blossoms and the fruit itself, among others. Don't forget the easy stuff like crumbling it on top of your spinach salad, or stirring it with your raspberry jam and fig preserves. True Southerners have even been known to use our chèvre in their grits!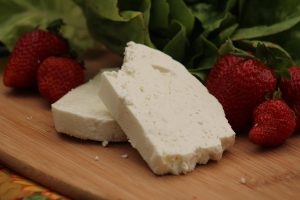 Feta
Greek-style feta cheese firm in texture, and fresh in taste with just enough salt to enhance its flavor. You won't find a more authentic feta produced anywhere nearby, and unlike the grocery stores, we don't brine. Necessary for Greek salad, spanakopita, tiropita and kolokythokeftedes; you'll likely also adore it as it's eaten in Greece on lentil and bean soups, meat stews, grilled food (souvlaki), fried potatoes, and fresh watermelon.
Tuma
Truly an Italian basket cheese. It's sliceable, sweet, and mild, pairing well with tomatoes and basil for Caprese salad, and perfectly complementing any antipasto, or pasta itself for that matter. It melts like mozarella onto a pizza, but with more taste. It is also similar to Indian paneer, sans the lemon coagulate, and can substitute for it in recipes. At market, a couple of Brazilian clientele said it's just like their cheese from back home that they grill, and another client quickly responded that they grill it too. Thus, we must conclude that tuma is an all around Super Cheese.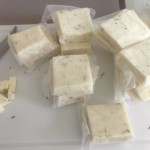 Cheddar
Our cheddar cheese has subtle undertones and just enough salt. It is a cherished and limited product, because of the involved 2-day process that's required to make it. We sell fresh (mild), as well as aged (sharp) varieties. It's delicious with tomato for a grilled cheese sandwich, as a burger topper, or on an appetizer tray with fruit and crackers. Chef Jen made it into cheddar coins for her dish at Peachtree Road Farmers' Market. Other recipes local chefs have made with our cheeses can be found on their website here.
Chef Seeger told me 20 years ago that he could create with the cheese, so he preferred to have it plain. However, we do offer some of our own recipes if you're so inclined, and we hope you enjoy them.
In addition to plain cheddar we also make: Rosemary Cheddar – a delightful kick of sophistication added to the cheddar
Cumin Cheddar: amazingly savory
Flavored Chevre
Garlic & Dill –knocks your socks off, some of our clientele even substitute it for pasta sauce.
Lavender Fennel –the crowd favorite, it's subtle, and an ideal neutral that can be coupled with sweet as well as savory tastes. It is incredibly delicious baked onto a pizza with roasted beets and caramelized onions. It's also a fabulous dessert cheese pairing indescribably well with red wine, honey, and/or berries
Basil Pesto –basil and garlic combine with the chèvre to create a taste that's perfect for summer. I like it because I can never choose between pesto and cheese, and with this cheese, I don't have to!
Paprika Party –as the name says, it's a party! Horseradish, paprika and chili powder combine to create a taste that disappears off the plate.
Amaretto Orange –we only present this special during the holiday season, to you as a present, and it really is, with amaretto, mandarin oranges, and a secret ingredient.
Ash-coated –a fresh, rather than aged ash-coated chèvre, this cheese presents a mild flavor change, as well as a natural digestive