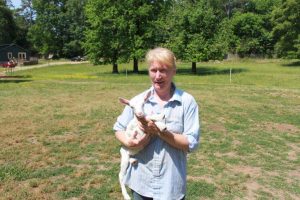 Mary Hart Rigdon
Mary Hart Rigdon graduated with a degree in Animal Science from UGA in 1981, and proceeded to work with USDA research on pigs and cattle. She then transferred to the Fort Reno Ag Research Station in El Reno, Oklahoma. It was there she was introduced to sheep by Gay Robson, a New Zealander with a wealth of knowledge and patience, who mentored her in fencing, lambing, rotational grazing, and limit grazing.
Mary has been on the historic 40 acres of farmland on Almach Avenue since October 1995. She lives with her family in the original farmhouse that dates from the 1930's. The name she gave it, Decimal Place, originated when she started her farm on .1 acres in her former beloved neighborhood of Grant Park in Atlanta, Georgia.
The land contains rotationally grazed pastures, piney wood, and scrubby brush, which all sustain a herd of American Saanen goats year-round. She chose to work with Saanens when she fell in love with their sweet temperaments, as well as their superior milking qualities. She takes great pride in having acreage to rotationally graze, as well as milking her herd twice a day every day.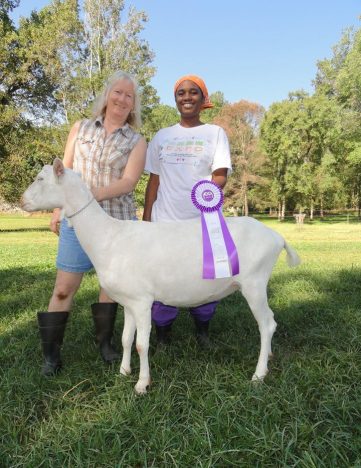 Join Our Team
We have both paid and unpaid opportunities!
Are you interested in farming as a long-term path in your life? Do you have experience with dairy work? Want to spend your day in 40 acres of beautiful woods while learning life-long skills?
These are some of the top traits we are looking for in workers and volunteers, though a positive attitude and attention to detail are also highly valued. Contact us for more information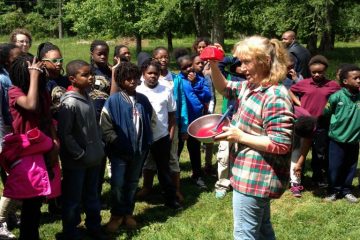 Visit the Farm
We love hosting visitors of all ages at the farm! It allows us to spread agricultural education, and strengthen the ties we all share in our local community. For any type of visit, please call to schedule a minimum of two weeks in advance. We are a working farm, so please bear in mind that we cannot accommodate all visits at all times, particularly the closer it is to your desired date.
We ask that visitors arrive in clean close-toed shoes and outdoor clothes including long pants. The clean shoes are required so that we do not track contaminants from other areas into our farm. Please note: we are a real farm. This includes ants, poison ivy, and pollinators (bees and wasps).